Young adults want to be more in touch with their mental health.
​
In August 2018, there were no opportunities for student interested in fashion at the University of Florida. And worse, as a design student I noticed no publications on campus prioritizing design. So.... I launched UF's first student-run, fashion-focused print publication Rowdy Magazine.

The publication began as a way to encourage my peers into expressing their truest, most wild selves through a publication that, itself felt disruptive. Rowdy was created to fill a gap in the UF community; serving as a publication that connected its student body to arts, culture and activism.

After pitching students in 30+ classes at UF to join me, we quickly became a tribe of kindred-spirits who inspired and brain-stormed wild ideas to expand our community every day.

Rowdy Magazine quickly became a leading publication for UF students focused on celebrating diversity and inspiring collective change.

Over the past 2 years, Rowdy has built a niche community through events and innovative publications at the university level.

Our publications have since grown larger along with our spaces we create and the people we reach. We are a mighty 30-person team with diverse students of all majors dedicated to championing global change starting at the University of Florida.
​
Eliminating traditional and cognitive barriers to mental health resources for young adults is *

essential

* for early prevention.
How could we create a simple and personalized resource?
Lead and solo designer— discovery, user research, design, journey mapping, information architecture
Crystal Leung, Product Manager
Mia O'Brien, Engineer
Cathy Ding, Engineer
DRESS ROWDY,
FUCK IT.
For the launch of our first issue, Rowdy wanted to create an immersive, interactive experience — a female-led "Art Basel" of sorts in honor of women's history month.

By pairing up with 8 female student artists and female-owned businesses, we were able to spotlight those in our community empowering our own female-based audience.

Our event dress-code has since become a staple of our identity, "Dress Rowdy, Fuck It."
Emphasizing co-design and inclusive research practices
Throughout the creation of our product we consulted with numerous psychiatrists and therapists. We wanted to emphasize co-design and inclusive research practices throughout our process.
Our vision— an accessible digital safe space.
A study on our competitors showed me that resources were either way too generalized or not accessible. Accessibility in our case specifically meant cognitive barriers as well as time and money. As a result, young adults would just avoid dealing with their mental health. Through user interviews and secondary research, it became evident that there were massive pain points in the space.
Users want actionable advice
Young adults struggle with accountability
Struggling to connect with therapists
Negative connotations with mental health time
​
​
​
Playing to our users' strengths & preferences...
The coping strategies that work for someone else might not work for you. Going for a walk might help your partner calm down. But you might find going for a walk when you're angry causes you think more about why you're mad—and it fuels your angry feelings. Knowing what strategies work for *you* are essential in learning to cope and grow with difficult situations.
We needed to create a product that learned about our users strengths and preferences quickly. Our solution requires users to share their Myers Briggs personality type with us during onboarding, which is later used to filter out which strategies will work best for each individuals traits.
Verbal journaling with
Alexa seamlessly integrates mental health into your routine.
Journalling and talking out loud helps unload, analyze, sort out, prioritize emotions. But many young adults struggle to keep it in their routine regardless of it being the most recommended tool by therapists. (according to our interviews)
Verbal journalling allows us to eliminate the barriers of tradition journaling. Thus, providing an opportunity for positive self-talk and identifying negative thoughts and behaviors. Alexa is convenient, quick, and easy and already has natural language processing. This interaction with Alexa helps us to understand what you're feeling and how you personally might need help working through your current emotion.
An integral part of building emotional resilience is being self aware. We created an insights page that allows users to keep track of their most common emotions and more. Our "Recent Feels" graph allows users to also look in detail at their past information they shared.
Building resilience through personal insights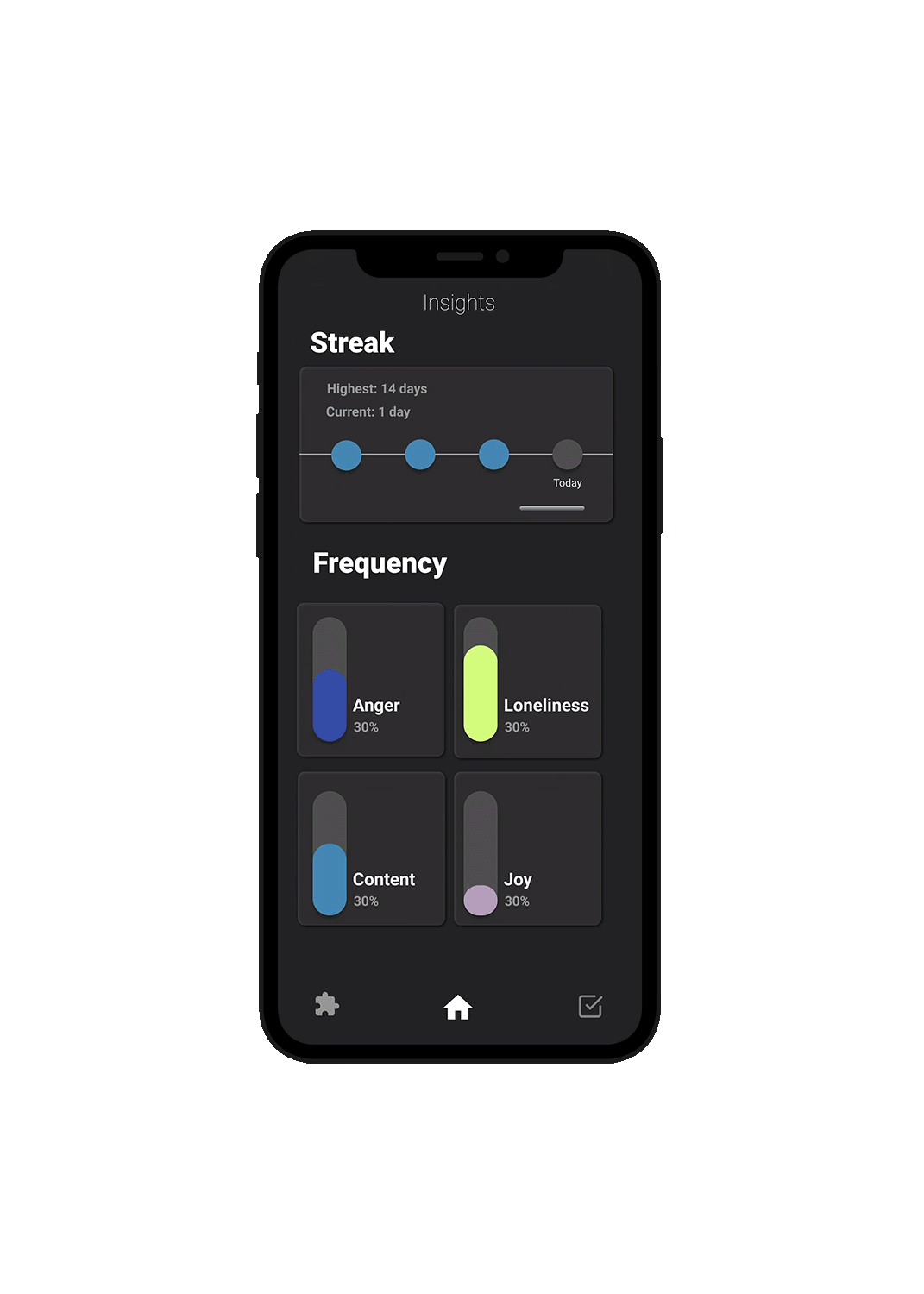 Designing for those struggling with mental health
When we think about what makes technology or a website accessible, we consider things like color contrast and keyboard accessibility as checkboxes. However, in this scenario as we discussed earlier accessibility can be different for those struggling with mental health.
​
1. Minimize Complexity
We needed to consider the state of mind of the user as they accessed our product. Young adults expend a lot of their energy on other electronic devices. We wanted to be on the opposite end of cognitive overload. This is why we chose to use only Roboto, a familiar font that kept a clear hierarchy throughout.
By using a more neutral approach to graphic design, we acknowledge that mental health challenges may look different depending on the individual.
​
2. Dark Mode
I originally started with a light mode and dark mode version of the app. After sharing some option with our team and other potential users feedback reflected negatively on light mode—
it created a false "uppity" feeling. We wanted our low pressure, casual approach to translate through in our apps presentation which was best represented through dark mode.
​
3. Lack of Images
Lastly, we decided to not include anything resembling a potential user. We've all seen stock photos of people clutching their head in frustration/sadness. Although those photos might seem like an obvious way to represent stress or despair, they tend to be a bit over-dramatic and support the idea that mental illness looks a certain way for everyone.